Various Artists - I Saved Latin! A Tribute to Wes Anderson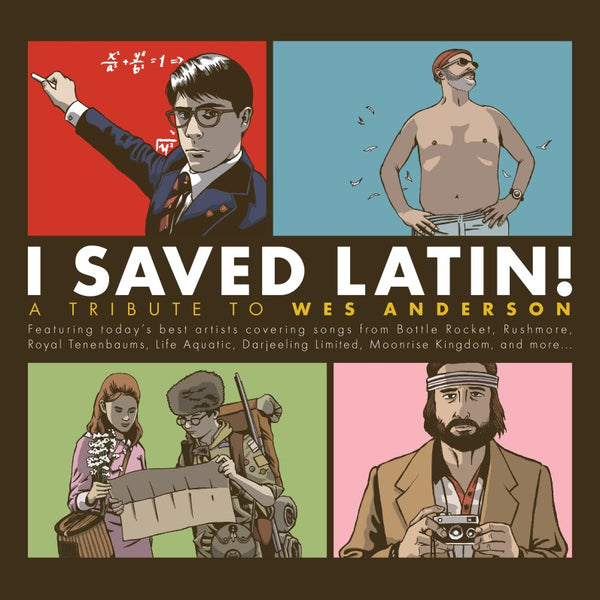 Catalog Number: ALR-0032
Release Date: 02/12/14
Track List:
Margaret Yang's Theme - Someone Still Loves You Boris Yeltsin

A Quick One While He's Away - Saint Motel

These Days - Matt Pond (feat. Laura Stevenson & Chris Hansen)

Let Her Dance - Freelance Whales

I Am Waiting - Tomo Nakayama (feat. Jesse Sykes)

The Wind - William Fitzsimmons

Needle In The Hay - Juliana Hatfield

Making Time - Generationals

The Way I Feel Inside - PHOX

This Time Tomorrow - Telekinesis

Strangers - Escondido

Alone Again Or - Sara Lov

Nothing In This World Can Stop Me Worrin' Bout That Girl - Solvents

Here Comes My Baby - Tea Cozies

Fly - Kristin Hersh

Ziggy Stardust - Margot & the Nuclear So and So's

Play with Fire - Elk City

Stephanie Says - Tele Novella

Oh Yoko - The Ghost In You

Fairest Of The Seasons - Trespassers William

30 Century Man - Tomten

Street Fighting Man - Mike Watt & The Secondmen

Five Years - Santah
Our new vinyl pressing from the fine folks at Furnace Record Pressing is limited to 500 units. Pressed on Audiophile Virgin Black Vinyl. Shipping Now!
An outstanding double-album featuring today's best artists covering songs from Bottle Rocket, Rushmore, Royal Tenenbaums, Life Aquatic, Moonrise Kingdom, and more. Praised by SPIN, NME, TIME, Rolling Stone, Paste, Nylon, A.V. Club, NPR, USA Today, Pitchfork, and more.

"Cohesive and pleasingly idiosyncratic, 'I Saved Latin!' tugs on your heartstrings in the sweetest of ways -- just like the films themselves." -NME

"I Saved Latin! works on many levels – as a tribute to Wes Anderson, to his movies, to particular scenes in his movies, to the artists whose songs scored those scenes, to the artists who covered those songs, and to the label that brought those artists together." -Cover Me
"Highly original and masterfully executed -- much like a Wes Anderson film." -Details