Various Artists - Just Like Heaven: A Tribute to The Cure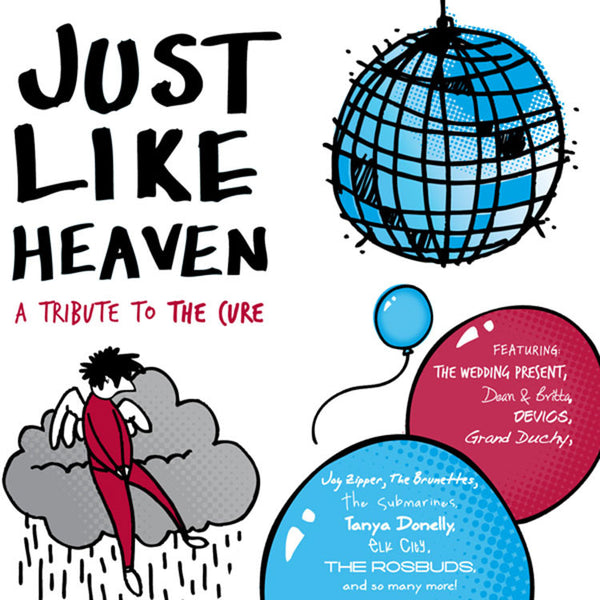 Catalog Number: ALR-0018
Release Date: 01/27/09
Track List:
Just Like Heaven - Joy Zipper
The Lovecats - Tanya Donelly + Dylan In The Movies
Lovesong - The Brunettes
In Between Days - Kitty Karlyle
Friday I'm In Love - Dean & Britta
Jumping Someone Else's Train - Luff
Boys Don't Cry - The Submarines
Close To Me - Elk City
The Walk - The Rosebuds
Pictures Of You - Class Actress
Let's Go To Bed - Cassettes Won't Listen
Catch - Devics
A Night Like This - Julie Peel
10:15 Saturday Night - The Poems
A Strange Day - Grand Duchy (Black Francis + Violet Clark)
High - The Wedding Present
Lovesong - Dala *Bonus CD-Only Track*
Just Like Heaven features 16 cover versions of Cure favorites by a bevy of indie artists, including; The Wedding Present, Dean & Britta, The Rosebuds, Tanya Donelly & Dylan in the Movies, The Submarines, Elk City, Class Actress, Joy Zipper, Black Francis, and so many more. Mastered by West West Side Music (Galaxie 500, The Wrens, Fleetwood Mac). Original illustrations and artwork by Melinda Rainsberger.
"An outstanding compilation... this is a must for all Cure fans" - NYC Daily News
"A genuine, and at times quite moving, surprise." - All Music Guide
"Indie darlings past and present come together to repaint the mood swinging lyrics and remix the eternal sunshine of The Cure hits." - Rolling Stone