Various Artists - Cinnamon Girl: Women Artists Cover Neil Young for Charity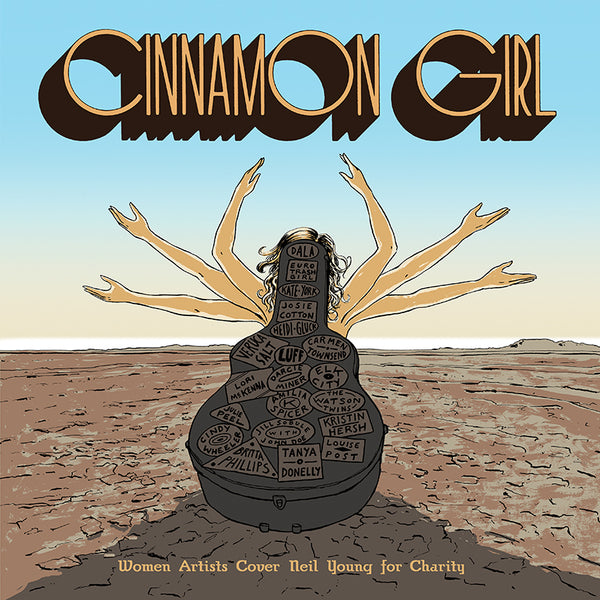 Catalog Number: ALR-0012
CD Release Date: 02/12/08
LP Release Date: 12/17/21
Track List:
Heart Of Gold - Tanya Donelly
I Am A Child - Britta Phillips
Comes A Time - Kate York
The Needle And The Damage Done - Lori McKenna
Down By The River - Jill Sobule with John Doe
Burned - Veruca Salt
Cowgirl In The Sand - Josie Cotton
A Man Needs A Maid - Dala
Ohio - Darcie Miner
Everybody Knows This Is Nowhere - Carmen Townsend
Cinnamon Girl - Euro Trash Girl
I Believe In You - Julie Peel
Tell Me Why - Luff
Ohio - Dala
Helpless - Elk City
Only Love Can Break Your Heart - Amilia K. Spicer
Sugar Mountain - Louise Post
Powderfinger - The Watson Twins
Like A Hurricane - Kristin Hersh
Old Man - Cindy Wheeler
Walk On - Heidi Gluck
*Our first ever vinyl pressing of Cinnamon Girl is sold-out on our webshop but you can order from your favorite record store (our distributor "Alliance" has a couple dozen copies to ship to record stores). Only 1,000 copies pressed. Double-LP, Gatefold Jacket, Colored Vinyl. Lacquers cut by Levi Seitz. Pressed in the USA at Furnace Record Pressing.
Tanya Donelly, Britta Phillips, Lori McKenna, Jill Sobule, Elk City, Veruca Salt, Kristin Hersh, Josie Cotton, The Watson Twins, and Dala are just some of the outstanding artists covering Neil Young's most popular songs for charity on this wonderful album.
In preparation of the first ever vinyl pressing (December 2021), we had our good friend Casey Burns (Sonic Youth, Spoon, Superchunk) reimagine the artwork for both LP and CD. The audio has been remastered by Sean Glonek at SRG studios (Matthew Sweet, William Fitzsimmons, Stars) from the original source files. This new edition looks and sounds amazing!
All proceeds from this benefit record are lovingly donated to Casting for Recovery, whose mission is to enhance the quality of life of women with breast cancer through a unique retreat program that combines breast cancer education and peer support with the therapeutic sport of fly fishing.